Home» News&Events» News» Jiang Baoguo from PKU Medicine Elected Member of Chinese Academy of Engineering
Jiang Baoguo from PKU Medicine Elected Member of Chinese Academy of Engineering
  On November 18, the 2021 member election of the Chinese Academy of Engineering (CAE) was released. Professor Jiang Baoguo, Dean of Peking University Department of Orthopedics, Director of National Center for Trauma Medicine (NCTM), and President of PKU People's Hospital (PKUPH), was elected CAE academician. Up till now, there are altogether 17 academician of CAE and the Chinese Academy of Sciences in PKU Medicine.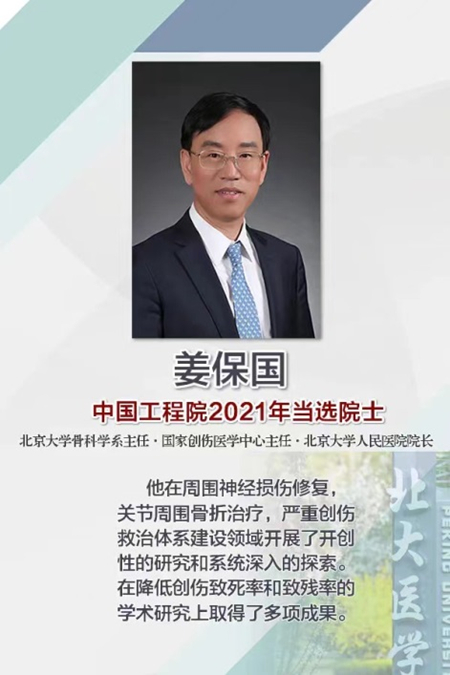 Professor Jiang Baoguo, studied at China Medical University from1979 to 1987, earning his bachelor's degree in clinical medicine and master's in anatomy. He entered Beijing Medical University (BMU) for the doctorate in 1988 and went to Niigata University from 1990 to 1992 as one of the doctoral candidates of the first joint training program by China and Japan. He obtained his doctorate in orthopedics at BMU in the year of 1992.
  He has worked as the Dean of PKUPH Department of Trauma Orthopedics, Vice President of PKU Health Science Center, Director of PKU Center for Trauma Medicine, and Dean of PKU Department of Orthopedics. He is now the Director of NCTM and President of PKUPH. Professor Jiang Baoguo has long been dedicated to the clinical treatment of trauma surgery and the academic research in reducing the trauma fatality rate and disability rate. He is the academic leader in the field of the treatment for clinical multiple-trauma in our country, having made important achievements in the repair technology for peripheral nerve injury, the diagnosis technique of periarticular fracture, and the system building for severe trauma treatment. He's been awarded the second prize of the National Award of Scientific and Technological Progress, CAE Guanghua Engineering Science and Technology Prize, and Ho Leung Ho Lee Foundation Prize for Scientific and Technological Progress.
  Written by: Lang Lang
  Edited by: Liu Xin
  Source: Office of Publicity
TOP