Home» News&Events» News» International Cooperation and Results Transformation Forum Held During the 9th JI Symposium
International Cooperation and Results Transformation Forum Held During the 9th JI Symposium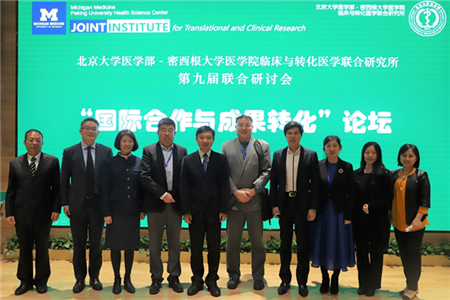 The Forum of International Cooperation and Results Transformation was held on October 31 as a parallel session of the 9th Symposium of the Joint Institute for Translational and Clinical Research cohosted by Peking University Health Science Center (PUHSC) and University of Michigan Health System (UMHS). The forum aimed to promote joint research through technology transfer.
  Vice President Xiao Yuan of PUHSC, Deputy Director Eugene Chen of UMHS Center for Advanced Models for Translational Sciences and Therapeutics, Deputy Director Dong Tiefei of UMHS Office for Technology Transfer, and Prof. Thomas D. Wang of UMHS were present at the forum.
  Since its inauguration in October 2010, The PUHSC-UMHS Joint Institute has launched multiple collaborative projects in research, training and medical education, and achieved remarkable results.
  Written by: Fan Xiaofei
  Edited by: Liu Xin
  Source: Office for Industrial Management
TOP