PKU Medicine Education Forum 2019 Held in Beijing
  The PKU Medicine Education Forum 2019 was convened in October 16-19 in Beijing. The forum, which was themed "Action and Vision of Health Professions Education: Inheritance, Integration and Innovation", was attended by over 800 people from over 150 institutions, and nearly 7,000 people watched its live broadcast.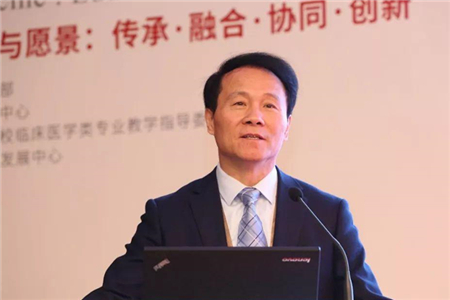 Keynote speakers at the plenary session included K.C. Wong Chair Professor Chen Chunhua of Peking University National School of Development, former Executive Vice President Ke Yang of PKU, Director Michael Wilkes of Global Health at University of California, Davis, Associate Dean Gary Sutkin of Women's Health at University of Missouri Kansas City School of Medicine, and China Representative Huang Yingzi of the Association for Medical Education in Europe (AMEE).
  The forum with its five parallel sessions received 204 abstracts from 57 institutions, which were reviewed by a panel of 29 experts from over 20 institutions. Eventually authors of 11 articles were bestowed with first prize, 20 with second prize, 31 with third prize, and 59 with honorable mention.
  This year's forum saw great interactions among scholars of medical, education and managerial sciences as well as information technology, and served as a platform for exchanges and innovation.
  Written by: Fan Xiaofei
  Edited by: Liu Xin
TOP