Home» News&Events» News» Peking University Professor Han Fang Appointed Secretary-General of World Sleep Society
Peking University Professor Han Fang Appointed Secretary-General of World Sleep Society
  The World Sleep 2019 was held from September 22 till 26 in Vancouver, Canada. Professor Hang Fang from Peking University People's Hospital was elected the secretary-general of the World Sleep Society (WSS). She was the first scholar from China to be admitted to the Society.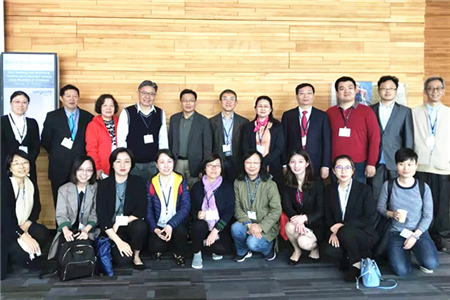 Group photo of Chinese representatives
  Hang Fang is now the Director of PKU Center for Sleep Research and Director of PKUHSC Center for Sleep Medicine. She is an academic leader in the field of sleep medicine in our country and her research on the genetic immunologic mechanism of narcolepsy has reached the international leading level. Professor Han Fang's appointment as the secretary-general of the WSS shows the world's recognition of our country's effort in sleep research, which will surely promote the development of sleep research and the disciplinary building in our country.
  Written by: Lang Lang
  Edited by: Liu Xin
  Source: Office of Publicity
TOP