Home» News&Events» News» PKU Third Hospital Finishes the 1st Orthopaedic Robot-Assisted Hip Replacement
PKU Third Hospital Finishes the 1st Orthopaedic Robot-Assisted Hip Replacement
  On September 3, Professor Tian Hua, Vice Dean of Orthopaedic Department and Joint Surgical Department at PKU Third Hospital (PKUTH), did the 1st orthopaedic robot-assisted hip replacement operation on a 71-year-old patient of hip osteoarthritis, which signifies the Department's first clinical application of orthopaedic robot, the symbol of the latest intelligence technology.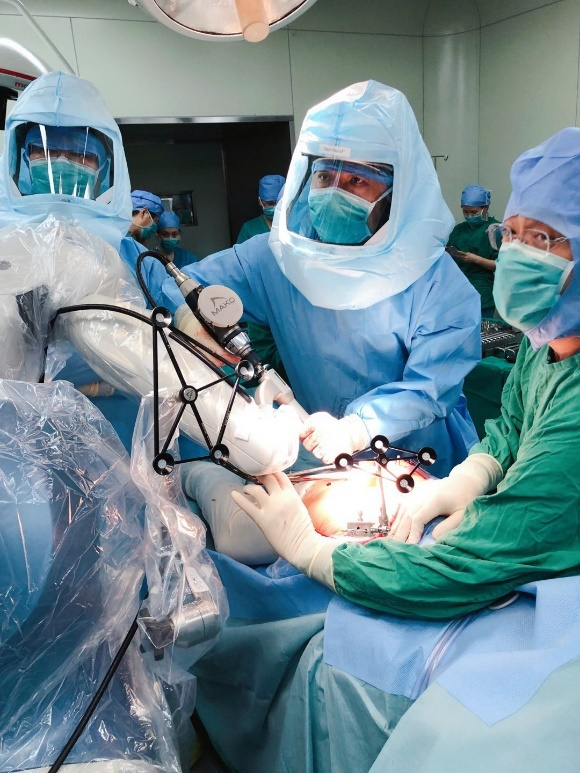 Professor Tian Hua is preparing the acetabulum and implanting the prosthesiswith the assistance of the robot's mechanical arm
  With the assistant of the robot, Professor Tian Hua chose the prosthesis suitable to the patient and placed it on the correct site. The operation only took over 70 minutes with no more than 200 ml of surgical bleeding. After the patient was sent back to the ward, the imaging results showed that the prosthesis' size, location, and angel and the leg length were very ideal, which was totally in accordance with the preoperative planning. On the night of the operation, the patient was able to walk about, and his sleep and diet was unaffected. With various indexes stabilized, the patient was discharged after two days of hospitalization.
  Professor Tian Hua expressed the hope that robot-assisted operation could become a routine option for PKUTH's orthopaedic joint replacement and benefit more patients.

  Written by: Lang Lang
  Edited by: Liu Xin
  Source: PKUTH
TOP