Home» News&Events» News» Professor Ke Yang's Team Makes Progress in "Precise Prevention and Treatment of Esophageal Cancer"
Professor Ke Yang's Team Makes Progress in "Precise Prevention and Treatment of Esophageal Cancer"
  On September 14, Clinical Gastroenterology & Hepatology, the official journal of American Gastroenterology Association, published online the research paper by Professor Ke Yang's team at Peking University Cancer Hospital, titled "Absence of Iodine Staining Associates with Progression of Esophageal Lesions in a Prospective Endoscopic Surveillance Study in China". The study established for the first time the individualized risk prediction model for esophageal carcinogenesis. It also pioneered in proving the important value of endoscopic iodine staining in terms of the warning of early low-grade lesion developing into high-grade malignant lesion.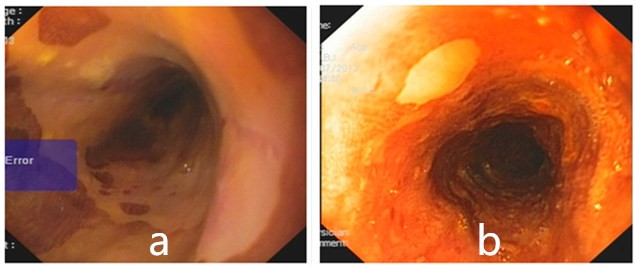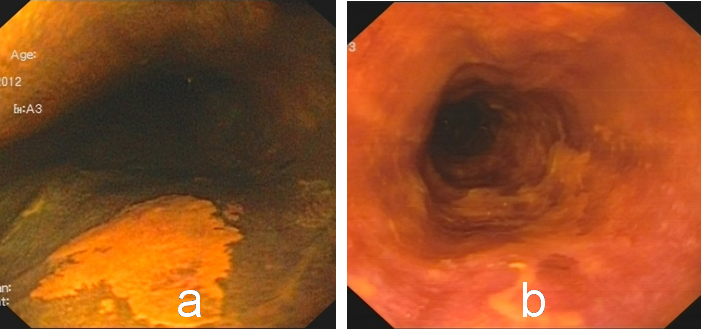 Endoscopic sample of abnormal iodine staining in esophageal mucosa
  Professor Ke Yang's team has been dedicated to the study of carcinogenesis of esophageal cancer (EC) and the population study of precise prevention and treatment. The team has established a practical "risk prediction model for EC" based on ESECC project (Clin Gastroenterol Hepatol, 2017.15:1538-154), and realized the pre-endoscopic screening identification and concentration of high-risk population, which definitely decreases the rate of ineffective screening. With the risk prediction model for esophageal lesion progression established in this study, post-screening individualized endoscopic surveillance has been further realized. So far, the team has initially built the technologies and strategies of precise prevention and treatment of EC, for which our country owns independent intellectual property right. They have provided important experience and thoughts for the reform and development of EC population prevention and control, which has a clear value for public health and clinical practice.
  Link: https://www.cghjournal.org/article/S1542-3565(19)30980-2/pdf
  Written by: Lang Lang
  Edited by: Liu Xin
  Source: Cancer Hospital
TOP