Home» News&Events» News» PUHSC Holds Opening Ceremony for Joint Postgraduate Program with University of Southern California
PUHSC Holds Opening Ceremony for Joint Postgraduate Program with University of Southern California
  The opening ceremony for the joint postgraduate program between Peking University Health Science Center (PUHSC) and University of Southern California (USC) Mrs. T.H. Chan Division of Occupational Science and Occupational Therapy (Chan Division) was held in September 10 at the PUHSC Center for International Cooperation & Exchange.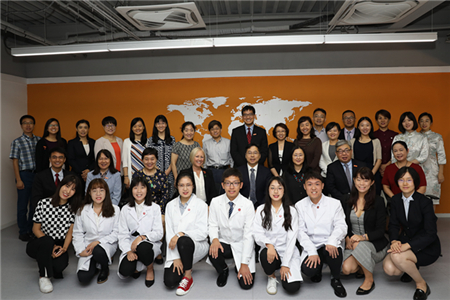 The postgraduate program at the Chan Division ranks first in all the 768 programs of its kind in the United States. Back in October 17, 2016, the Chan Division signed in Los Angeles an agreement of cooperation with the PUHSC, where the PUHSC would in eight years train four faculty members for postgraduate program of occupational therapy and produce 15 graduates with Master's degree given by the PUHSC and Doctor's by the USC. Three years into this agreement, the PUHSC now sees its postgraduate program of occupational therapy follow in full the USC curriculum for the first time.
  During her remarks at the opening ceremony, Prof. Yan Yanning, Chair of Occupation Therapy at Chinese Association of Rehabilitation Medicine spoke highly of this cooperation. She said the two world-class institutions joining hands were bound to produce the best practitioners in the field, and that occupation therapy in China would thus be put on a fast track in its development.
  Executive Vice President Xu Ming of PUHSC Graduate School also recognized in his remarks the significance of this cooperation. He paid tribute to the team members of the program as well as the newly enrolled graduates, and depicted his vision for postgraduate education of occupational therapy both in the PUHSC and in China at large.
  The initiation of the joint postgraduate program at the PUHSC is believed to set a benchmark for programs of its kind in this country.
  Written by: Fan Xiaofei
  Edited by: Liu Xin
  Source: PUHSC Graduate School, Office of International Cooperation, Peking University Third Hospital, Peking University First Hospital
TOP