Home» News&Events» News» Sino-US Collaborative Research Project on Chinese Sleep and Vascular Health Launched
Sino-US Collaborative Research Project on Chinese Sleep and Vascular Health Launched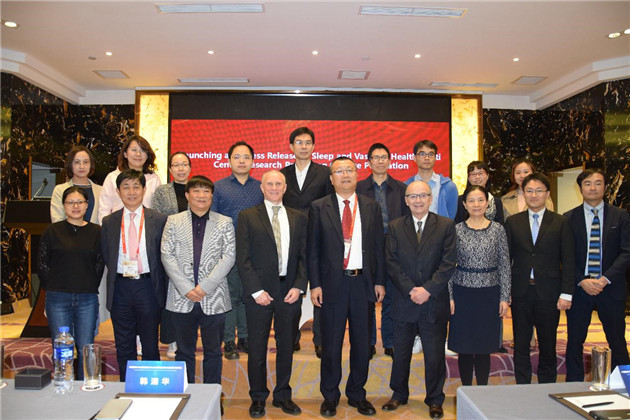 On October 12, the Sino-US collaborative "Sleep and Vascular Health Multi Centric Research Project on Chinese Population" was launched in Beijing. Professor Wang Hongyu, the Chinese Principal Investigator (PI) of the project, Vice President of Peking University Shougang Hospital and Dean of Department of Vascular Medicine, and Director of PKU Health Science Center's Community Prevention Center for Vascular Diseases, and Professor Amir Lerman, the American PI and Director of Cardiovascular Research Center of Rochester Mayo Clinic, made introductions to the program and answered questions from the press. Representatives from over twenty hospitals nationwide attended the launching ceremony. Professor Wang and Professor Lerman regarded the research as a significant and beneficial to the population with cardiovascular diseases. They hoped the findings of the research would not only provide guidance over the drafting of cardiovascular disease treatment but also help the government reduce medical costs and help more cardiovascular patients have a better life.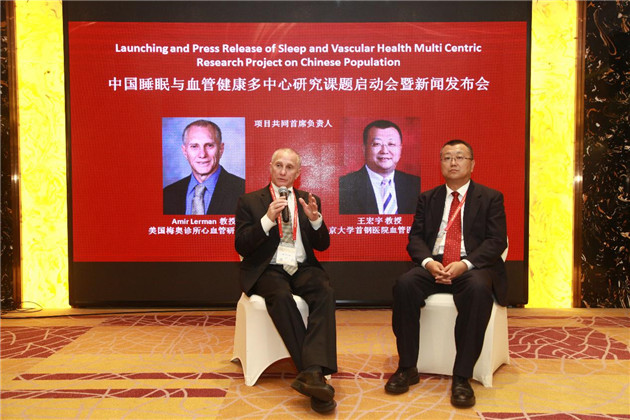 "The project we designed together with Professor Lerman will put some brand new indices related with vascular functions into the system of vascular health and vascular incident evaluation. Then we'll observe whether the treatment plan guided by the indices will reduce the risk of future cardiovascular incidents and disease cost," said Professor Wang.
Professor Lerman pointed out that this multi centric research aimed at verifying the predictive effect of new physical and functional indices, such as endothelial function index and sleep index, and the impact of related treatment plan on improving prognosis, reducing medical expenses and improving patients' life.
It was reported that the research will last for five years and will set up subprojects in fields like male health and habit intervention.
Written by: Lang Lang
Edited by: Liu Xin
TOP