Home» News&Events» News» Hong Kong Luen Thai Group Chairman Mr. Tan Siu Lin Donates to PKU Health Science Center
Hong Kong Luen Thai Group Chairman Mr. Tan Siu Lin Donates to PKU Health Science Center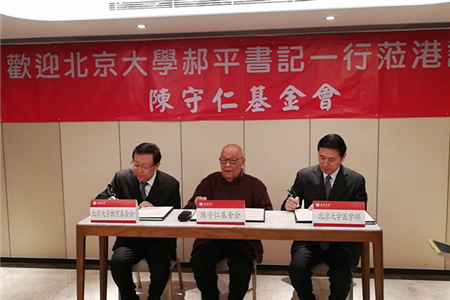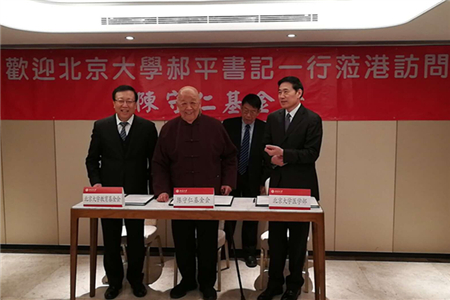 On December 20, 2017, Mr. Tan Siu Lin, Chairman of Hong Kong Luen Thai Group, met with Peking University delegation led by Hao Ping, Chairman of the PKU Council and President of the Education Foundation. They signed a donation agreement of 2 million yuan to establish "PKUHSC Tan Siu Lin Education Fund" in order to support the teaching, research, and talent training in the field of traditional Chinese medicine.
  Liu Yucun, Vice Chairman of PKU Council and Chairman of PKUHSC Council, introduced to Mr. Tan Siu Lin the comprehensive advantages and leading position of PKU medicine, and shared his overall understanding of health in the new era. Mr. Tan Siu Lin expressed his hope that PKU would bring its developing edge in health into full play to nurture more top talents with high qualities. Hao Ping thanked Mr. Tan Siu Lin for his constant support for PKU development and said that PKU Medicine would have the university's support so that it could contribute to our nation's cause of medicine and health.
  Extended reading:
  Mr. Tan Siu Lin was born in Quanzhou, Fujian Province, in 1930. He founded Luen Thai Shipping & Trading Company in Hong Kong in 1965. He now sits as Chairman of the Board of Luen Thai Holdings Corporation.
  Mr. Tan Siu Lin has donated on the aggregate tens of millions yuan to support the development of PKU International Research Center for Sun Yat-sen Thoughts, Siu Lin Center for International Research, Luen Thai Center for Supply Chain System Research, Overseas Exchange Foundation, Research Center for New Structural Economics, and PKU Education Foundation. In order to express the gratitude and respect for Mr Tan Siu Lin, the backyard building of Education Foundation was name as "Siu Lin Building".
  Written by: Lang Lang
  Edited by: Liu Xin
TOP