PKU Sixth Hospital Delegation Attends the 6th BESETO Conference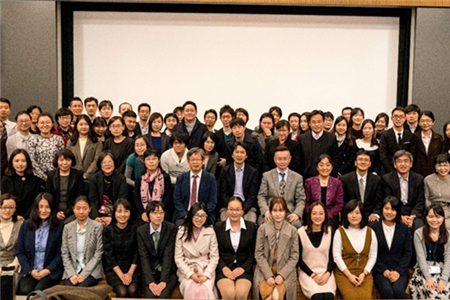 On November 24-26, 2017, the 6th BESETO International Psychiatry Conference, hosted by the University of Tokyo, was held in Tokyo, Japan. The Beijing-Seoul-Tokyo International Psychiatry Conference (BESETO Conference for short) has been co-initiated by psychiatrists from Peking University, Seoul University and the University of Tokyo and is organized in turn in the three countries. The conference is dedicated to providing a global platform for scholars of mental science in the three countries, especially young researchers, to keep track of academic frontiers and exchange scientific research achievements, thus promoting the development and cooperation in mental health research all over the world.
  A delegation of 26 teachers and students from PKU Sixth Hospital, led by the Hospital Science and Research Vice President, Professor YUE Weihua, went to Tokyo to attend this conference. This delegation is so far the largest in the history of PKU Sixth Hospital for overseas group visits and exchanges. Besides the two themes "Social Psychiatry and Anti-discrimination" and "Early Psychiatry: Neurobiology, Diagnosis and Intervention", the conference also includes three sub-forums: "Child and Adolescent Psychiatry", "Geriatric Psychiatry" and "Psycho-neuroscience". Demonstrations and exchanges of participants' respective research findings were conducted at each sub-forum by means of academic reports, question and answer sessions, and discussions.
  Written by: WU Zhaoxia
  Edited by:Liu Xin
  Source: Peking University Sixth Hospital
TOP