Home» News&Events» News» Chinese American Immunologist Professor He Yukai Visits Peking University First Hospital
Chinese American Immunologist Professor He Yukai Visits Peking University First Hospital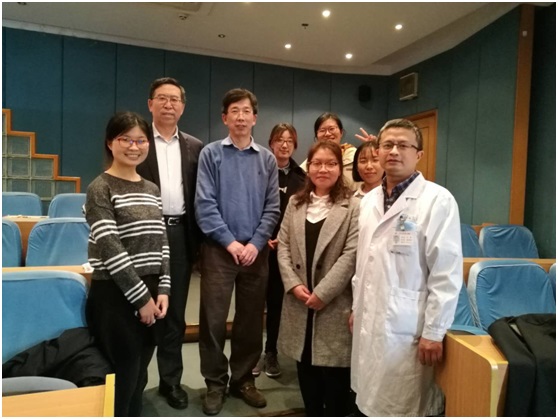 On the afternoon of November 11, He Yukai, a tenured professor at Augusta University, USA, came to Peking University First Hospital on the invitation of the Infectious Disease Department for academic exchange and made a report titled "The Basis and Translational Study of Liver Cancer Immunotherapy". Prof He has long been dedicated to the research of tumor immunotherapy, and is a reviewer for 32 medical journals including Cancer Research. He also reviews for several American medical funds and judges for the appointment of professional titles. Prof He has been invited to speak on and preside over the annual meetings of the American Association of Immunologist.
  After the report, Prof Wang Guiqiang, Director of the Infectious Disease Department, discussed with Prof He future collaboration intentions and the translation of clinical achievements. Hong Yuan, a physician at the Infectious Disease Department, reported the development and findings of their research. Prof He and Director Wang listened carefully and made pertinent comments.
  Prof He noted that he gained a further knowledge and understanding of the research and clinical study of the Infectious Disease Department of Peking University First Hospital and was deeply impressed by the hospital's excellent academic atmosphere and high-level research achievements.
  Written by: Lang Lang
  Edited by:Liu Xin
  Source: State Key Laboratory of Natural and Biomimetic Drugs
TOP