Home» News&Events» News» PKU First Hospital Surgery of Vascular Intervention Conducted Hemodialysis Access training for Sri Lanka Medical Personnel
PKU First Hospital Surgery of Vascular Intervention Conducted Hemodialysis Access training for Sri Lanka Medical Personnel

Group Picture
  In response to the "The Belt and Road" strategy, on Nov. 7th, 2017, a team of Nephrology Physicians from PKU First Hospital launched a one-week special training program on hemodialysis for Sri Lanka medical personnel, including 9 doctors, nurses and engineers from Sri Lanka.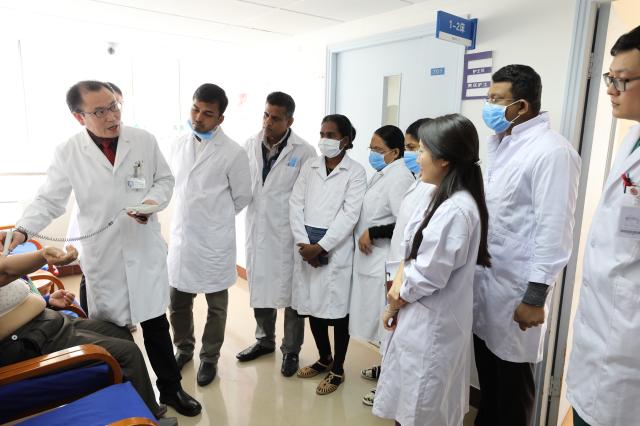 Chief Physician ZHANG Xiansheng with his trainees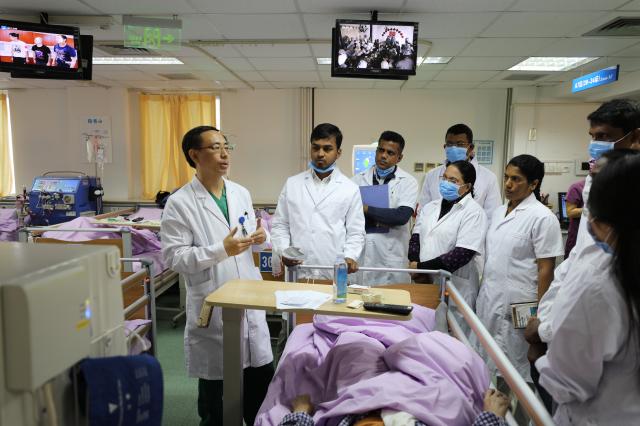 Associate Chief Physician YIN Jie with his trainees
  During the training, Sri Lanka medical staff fully communicated with their counterparts from PKU First Hospital about the issues concerning hemodialysis. They said that they felt incomparable warmth here at PKU First Hospital and were very grateful to the experts from Surgery of Vascular Intervention and Dialysis Room. According to Sri Lanka medical staff, this training not only rendered them knowledge and techniques, but also updated their conceptions. They also presented a gift with their national characteristics to the vascular surgery team. PKU First Hospital Vascular Intervention surgery team also expressed their willingness to work with foreign friends and brother departments together, fully cooperate in various aspects such as medical care, teaching and scientific research, and try to build a high-quality and efficient lifeline for dialysis patients.
  Written by: WU Zhaoxia
  Edited by:Liu Xin
  Source: PKU First Hospital
TOP